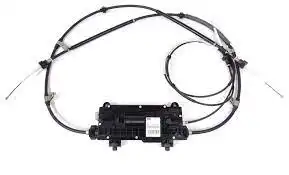 The parking brake control is the mechanism used to apply your vehicles parking brakes. Historically, in passenger vehicles, this has been a separate pedal you push or handle you pull. Pulling the lever or pushing the pedal, tensions a cable and ratcheting mechanism, which applies the holding force for the parking brake.
On modern vehicles, the parking brakes are typically applied by an electronic brake controller. This electronic brake controller comes in two versions: a hybrid system and full electronic system.
The hybrid system is comprised of a switch or button and an electric motor which provides the tensions of the cable, instead of relying on the driver's physical effort to engage the parking brake.
On a fully electronic parking brake system, there are two motors, one located at each rear caliper. When the parking brake is activated, these motors apply force through the brake calipers.

Parking brake not engaging
parking brake stuck on
parking brake disengaging unexpectedly.
How much will it cost?
The typical cost for the testing and replacement is between $150-$550 for parts and labor. This price range is averaged across all passenger vehicles. The actual cost depends on your specific make, model and year. Depending on your specific vehicle, this cost may be lower or higher. This cost estimate is for the specific repair listed and doesn?t include additional, related items that may require repair.
Here is what is included:
Inspection of the electronic parking brake controller
Replacement if necessary
Inspection of related components
\n
\n\n
\n\n
\n\n
\n
Are you in our service area?
Our primary service area is greater Grand Rapids, including Comstock Park, Kentwood, Walker and Wyoming.

We will travel, to other locations in west Michigan including Holland, Kalamazoo, Muskegon and their surrounding areas.
FixItFor.us
Out of 5 stars
Overall rating out of 3 Google reviews
recommends
I contacted SEVEN auto shops and none responded. Aaron actually reached out to me through Yelp & I am SO THANKFUL HE DID!! Him & his partner came and were able to get my alternator done in two hours! HIGHLY RECOMMEND!!
recommends
got my egr valve, hood supports, and new keys programmed on a chrysler 300 for way cheaper than the dealer, and was very easy because they come to you.
Brandon Carpenter
2020-07-03
not recommends
is not licensed or insured and will break your car no more