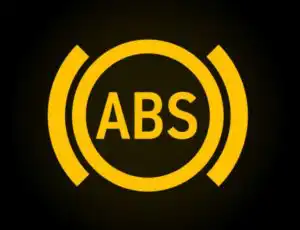 No sure why your ABS light is on or don't have the time to look into? We are here to help with ABS Diagnostics. Our technicians have the tools and expertise to track down and correct problems with your ABS system.
What is ABS?
ABS stands for Anti-lock Braking System. It is a safety system that prevents wheels from locking up during emergency braking. This helps reduce the overall braking distance and allows the drive to maintain more control. The concept of an anti-lock braking system is nearly 100 year olds. The first modern system was introduced in 1971.
Components
The anti-lock braking system is made up of four key components which allow the system to work
Controller
The controller monitors the information related to wheel speed and engages the ABS modulator and valves when a traction loss event is detected.
Pump
The pump is used to restore hydraulic force, after the valves have been activated. When the ABS system detects a wheel traction loss condition is detected, the hydraulic brake pressure input from the driver is released. The pump then applies a calculated amount of force, as directed by the ABS Controller. This allows for the modulation in braking force and reduces wheel slipping
Speed Sensor
Speed sensors monitor the acceleration or deceleration of one or more wheels. Depending on the specific set up there may be between 1 and 4 wheel speed sensors. A sensor mounted at each wheel is what is used on late model vehicles.
Valves
Valves are used to control the follow of hydraulic fluid through the ABS system. Most systems have three position. Position one allows the brake system to work completely under the input of the drive. Position two isolates the driver input, to limit braking force from rising, should the drive press harder on the brake pedal. Position three the valve release some of the pressure from the braking system.
How much will it cost?
Diagnostic services are preformed to find the cause of an issue. Depending on the system that is being worked on the complexity man vary. When preforming diagnostic services we estimate the amount of time it will it take. This information is presented to customer along with a price. The price is not charged, as long as the customer chooses to go forward with the repair. If the customeer declines repais, the diagnostic fee listed on the estimate is all that is due.
Request a service:
Get a quote online or set-up a time to have your vehicle looked at.

Choose your service time:
Pick time slots that work for you, easily, online. We will confirm appointments and send reminders.

Get your vehicle repaired:
No waiting at the shop. Our mechanics bring everything that is needed to you. All you have to do is provided a safe area for the work to be performed.
A safe place to work on your vehicle:
No working on the side of busy roads, No working on unstable or steep surfaces. We do not perform repairs during severe weather.

Authorization from a property owner or management.
If you rent please ensure work can be performed where your vehicle is. If your repair work is being done in a parking lot or at your place of employment, please ensure you have permission to have work performed. We do not do repairs in areas restricted by law.


Are you in our service area?
Our primary service area is greater Grand Rapids, including Comstock Park, Kentwood, Walker and Wyoming.

We will travel, to other locations in west Michigan including Holland, Kalamazoo, Muskegon and their surrounding areas.
FixItFor.us
Out of 5 stars
Overall rating out of 3 Google reviews
recommends
I contacted SEVEN auto shops and none responded. Aaron actually reached out to me through Yelp & I am SO THANKFUL HE DID!! Him & his partner came and were able to get my alternator done in two hours! HIGHLY RECOMMEND!!
recommends
got my egr valve, hood supports, and new keys programmed on a chrysler 300 for way cheaper than the dealer, and was very easy because they come to you.
Brandon Carpenter
2020-07-03
not recommends
is not licensed or insured and will break your car no more