How do I know I need a AC Line Replacement?
AC Lines and hoses carry the refrigerant from different components of your vehicles AC System. There are two sides to the system a low pressure side and a high pressure side. When these components fail you typically experience:

AC System doesn't function
AC isn't as cold as it should be
Visible physical damage.
How much will it cost?
The typical cost for the testing and replacement is between $130-$440 for parts and labor. This price range is averaged across all passenger vehicles. The actual cost depends on your specific make, model and year. Depending on your specific vehicle, this cost may be lower or higher. This cost estimate is for the specific repair listed and doesn't include additional, related items that may require repair.
What is included:
Diagnostics preformed on Air Conditioning System
Removal of the damaged component and installation of replacement
Proper removal of refrigerant from your vehicles Air Conditioning System.
Ensuring the system is properly sealed
Proper refilling of your Air Conditioning system with refrigerant.
Request a service:
Get a quote online or set-up a time to have your vehicle looked at.

Choose your service time:
Pick time slots that work for you, easily, online. We will confirm appointments and send reminders.

Get your vehicle repaired:
No waiting at the shop. Our mechanics bring everything that is needed to you. All you have to do is provided a safe area for the work to be performed.
A safe place to work on your vehicle:
No working on the side of busy roads, No working on unstable or steep surfaces. We do not perform repairs during severe weather.

Authorization from a property owner or management.
If you rent please ensure work can be performed where your vehicle is. If your repair work is being done in a parking lot or at your place of employment, please ensure you have permission to have work performed. We do not do repairs in areas restricted by law.


Are you in our service area?
Our services are available, on site throughout Michigan. Odds are you live near one of the cities we provide service in. These are some of the common places we perform repair services.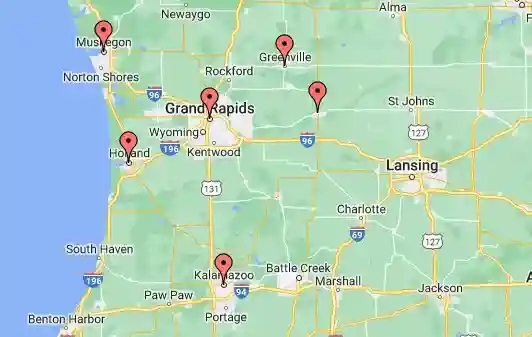 Richard Alvarez
06:03 21 Nov 22
I was expecting to pay for at least service just replacement of screw need I say more
Lisa Mclean
2021-07-15T18:12:31+0000
got my egr valve, hood supports, and new keys programmed on a chrysler 300 for way cheaper than the dealer, and was

...

very easy because they come to you.

read more
Brandon Carpenter
2020-07-03T15:56:40+0000
is not licensed or insured and will break your car no more