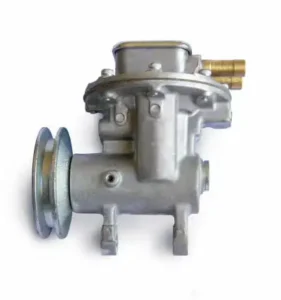 How do I know I need a Brake Drum Replacement?
Brake vacuum pumps are designed to provide the vacuum force needed to operate a vacuum brake booster. Brake Vacuum Pumps can be mechanically driven, via a belt or electrically powered.
When the brake vacuum pump fails, you will typically experience either a pedal which is very stiff or your pedal intermittently change from operating normally, to become stiff.


When these fail or begin to fail you will typically have:

Increased pedal stiffness
Increased braking distance
Noise from vacuum pump
Frozen pulley on vacuum pump
How much will it cost?
The typical cost for the testing and blend door actuator replacement is between $100-$400 for parts and labor. This price range is averaged across all passenger vehicles. The actual cost depends on your specific make, model and year. Depending on your specific vehicle, this cost may be lower or higher. This cost estimate is for the specific repair listed and doesn't include additional, related items that may require repair.
What is included:
Diagnosis of defective part
Replacement of defective part
Up to a lifetime warranty
Additional components requiring repair or replacement, may result in additional charges
\n
\n\n
\n\n
\n\n
\n
Are you in our service area?
Our primary service area is greater Grand Rapids, including Comstock Park, Kentwood, Walker and Wyoming.

We will travel, to other locations in west Michigan including Holland, Kalamazoo, Muskegon and their surrounding areas.
FixItFor.us
Out of 5 stars
Overall rating out of 3 Google reviews
recommends
I contacted SEVEN auto shops and none responded. Aaron actually reached out to me through Yelp & I am SO THANKFUL HE DID!! Him & his partner came and were able to get my alternator done in two hours! HIGHLY RECOMMEND!!
recommends
got my egr valve, hood supports, and new keys programmed on a chrysler 300 for way cheaper than the dealer, and was very easy because they come to you.
Brandon Carpenter
2020-07-03
not recommends
is not licensed or insured and will break your car no more